Getting students to spit out the gum and act professional
(Read article summary)
Can texting, napping, ball cap-wearing students learn professionalism?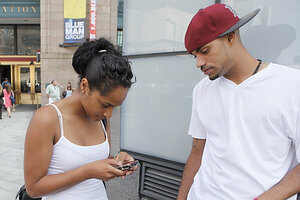 Melanie Stetson Freeman / Staff / File
I hear a lot of concern that professionalism is dead or at least dying in the workplace as this new generation of workers has been entering the workforce.
Those of us preparing college students for their careers face it almost everyday as professors - students who seem to lack the professional skills and even basic social skills that they will need to succeed in business. We have students who text message as we talk to them in our offices, who wear their hats on backwards, who sleep in class, who check Facebook during lectures, and even some who answer a cell phone call during class.
Our natural tendency is to throw our hands in the air in frustration and hope it does not get even worse before the time comes for us to retire. After all, this is the always connected, constantly wired generation. This is their culture.
But some of the management faculty at Bradley University began discussing how to deal with the numerous behavioral problems and even rudeness in their classes and when communicating in person, via email, or phone.
Jennifer Robin, who teaches Organizational Behavior, developed a system of professionalism points, designed to replace participation points in class. Professionalism points suggest appropriate behavior that will be useful in the future.
Eden Blair, who teaches Entrepreneurship at Bradley, has adopted this system. She shared her experiences with using this approach to addressing student behavior:
---