Want to be a successful entrepreneur? Look for mentors.
(Read article summary)
Every entrepreneur benefits by getting help from battle-scarred industry insiders, Cornwall writes, and mentors can get intrinsic and financial rewards from guiding young entrepreneurs.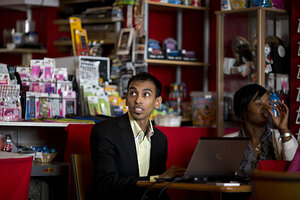 Matt Dunham/AP/File
One of the greatest joys of my job is advising and mentoring the student and alumni entrepreneurs who come out of our program at Belmont.
Students take full advantage of my office hours for mentoring. Some come in with the seed of an idea, while others are actively growing their ventures even before they graduate.
Entrepreneurship alumni get a "life time warranty," which means we never take ownership of alumni businesses and never take them as consulting clients. Instead, we meet at local coffee shops where we continue to mentor them as we had when they were students.
A limitation of what I can offer to those I mentor is that I do not have experience in most of the types of businesses they start. In fact, since I have been out of the full-time entrepreneurship world for sixteen years, I really don't have current experience in any industry!
What I can offer them is help on the issues and challenges that all entrepreneurs face, such as financing options, growing pains, partnership issues, ethical quandaries, and so forth. I can be their "process mentor."
But, what I can offer them is not always enough. Sometimes there are issues that they face that are specific to their industry. That is why I always encourage entrepreneurs to also find a "content mentor" – someone with a depth of experience in their industry.
Why two mentors?
---