Gold prices: Let the wild rumpus begin!
(Read article summary)
As everyone begins drumming the buy-gold, buy-gold, buy-gold beat, is it time for gold's parabolic price explosion, shooting sharply up and falling just as quickly back down?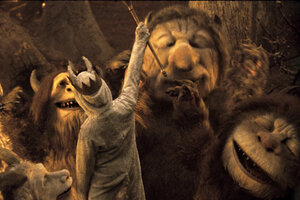 Warner Bros. Pictures / Album / Newscom / File
Richard Russell, James Cramer and my mom all agree now - gold is the move.
That doesn't tell me there's a top in gold - that tells me that the parabolic, hyper-speculative phase is imminent. You know the one I'm talking about. Where the chart becomes an Empire State Building and Donald Trump announces the first-ever Mine & Casino somewhere out west.
Read this recap of last night's Mad Money and get scared:
"Gold is not just another commodity," Jim Cramer told the viewers of his "Mad Money" TV show as he once again urged investors to put up to 20% of their portfolios into gold....Cramer once again gave the nod to Eldorado Gold and Agnico-Eagle Mines, along with the speculative Novagold, a stock which he owns for his charitable trust
Seriously, after a ten year run, a recommendation to the least sophisticated audience imaginable to put 20% of their assets in gold. Yes, he said "assets", not "portfolio" on the show, but we'll assume he meant "portfolio" and give him the benefit of the doubt. Oh, and he sent his viewers to buy the individual miners now instead of the metal itself. Oy vey.
Many of the large cap miners have lagged gold, and I get Cramer's point about how small their combined market caps are - but still.
I'm not a Cramer-basher, I've always liked the guy, but this is bananas.
Richard Russell, a phenomenal newsletter writer (Dow Theory Letter) but horrendous forecaster of anything, is now saying that gold has entered the thrid and final bull market phase - the speculative phase. I think he's right...
Most bull markets progress in three psychological phases.

I believe the first phase of the gold bull market has passed. It's over. This is the phase where students of great values take their initial positions.
---