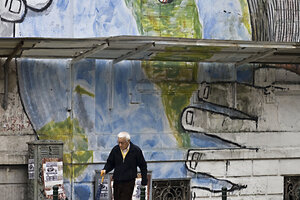 Armando Franca / AP
Here we go again. Rumblings in the sovereign bond market for a given peripheral Euro nation followed by the vigorous denials followed by the eventual assistance request. Now it's Portugal...it's like Iceland, Greece, Ireland all over again.
But we can break the cycle here and now. We can head this ragin' contagion off at the pass. I've got a simple and elegant solution I'd like to propose:
Step 1: Gather up all remaining capital within the Portuguese government and banking system.
Step 2: Put it all into the following basket of investments in equal parts (20% each):
Amazon ($AMZN)

---