Secrets to a successful blog: Aesthetics
(Read article summary)
How your blog looks is more important than you think. These are the secrets.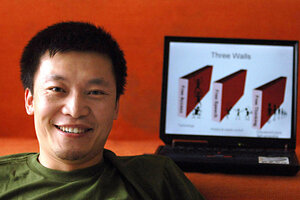 STR / AFP / Getty Images / File
Template: There are some ridiculously ugly blogs out there, most of them are on Google's Blogspot platform. Switch to WordPress, take one of their simplest templates and then spend a few hours learning basic HTML so you can manipulate the code and personalize it a bit. This costs you nothing other than time well-spent. You can get a WordPress designer for $500 to whip you up an original looking site if you want.
URL: Buy your own domain for $13 dollars. No more .blogspot or .wordpress or .typepad or .tumbler. If you're going to do this then really do this.
Color: Stop blogging on black backgrounds. I know it looks cool but I promise you that twice as many people will read your stuff if you listen to me. They will stay on longer and read more. Even Bloomberg went from "noir" to white, do you know more than the most successful financial media company in the world? I'm not saying your background has to be as white as Nicole Kidman's thighs; FT Alphaville and Barry both write on a light beige and it looks terrific. Just stop with the black.
Text: If your visitor clicks a link, hits your page and is greeted with a wall of text, that visitor is gone. No one wants to read something that looks like homework, no matter well written it is. Your first paragraph should never be more than one or two sentences. Each paragraph thereafter should be 3 to 4 sentences maximum. If you're over 500 words for the whole post, you better be writing something important or brilliant, otherwise just stop. The markets are moving and people won't even give your post a chance if it looks unconquerable.
---