iConomics: Six things to learn from Apple
(Read article summary)
Apple has ascended to 'über-success,' and other companies could learn a lot from watching.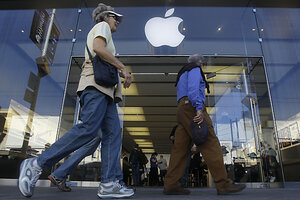 Jeff Chiu / AP / File
iConomics is a word I've created to capture the state of doing business in a world that Apple ($AAPL) owns and the rest of us just live in.
Regular readers know that I am a fairly astute observer of market trends and themes. While lots of ink has been spilled about Apple's ascendancy, no one has really yet formulated a good list of takeaways from it all. Below are what I view to be the key lessons for companies in the Era of Apple...
1. Don't just invent the product, invent the market:
Nobody knew they needed an in-home Keurig machine to make cup after cup of coffee until Green Mountain Coffee ($GMCR) convinced them that they did. In much the same way, Microsoft had tried and failed repeatedly to kickstart a market for tablet computers over the last decade. Each failure was blamed on there being no market for the devices. Funny, Apple's iPad came into the world with a similar lack of a market for tablets - so it had to invent one.
2. Pick needy partners:
---