Will Wall Street's social media analyst roll eyes or turn heads?
(Read article summary)
It could be valuable for somebody to value start-ups through the lens of social media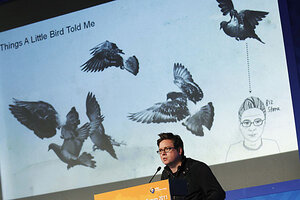 Lee Jae-Won / Reuters / File
Lou Kerner may be a bit misunderstood.
When I blogged about last week's profile of him, I did so without comment. Most people did the digital equivalent of rolling their eyes when they read his unofficial title, Wall Street's First Social Media Analyst. This skepticism is understandable - he is talking about a very controversial subject (valuations of venture startups) and most of what he says gets chopped up by the media soundbite machine.
I had an interesting conversation with Lou on Friday. We talked about his background as a Goldman Sachs analyst during the Web 1.0 days and I got a better sense of what he's actually trying to accomplish as a Wall Street social media analyst. It boils down to this: There is money to be made in venture stage companies by covering them based on earnings and revenue potential like a public company analyst. It may be highly lucrative for Lou's investors and partners to have a framework with which to assign values to these companies. We can disagree on the valuations themselves but Lou is coming about his guesses using math, not hype.
For example, here's Facebook versus Google on Revenues from one of Kerner's presentations.
Besides, in 2009 he publicly pronounced that Facebook was at least a $100 billion company, opening himself up to every ounce of scorn the media and blogosphere could muster at the time. Two years later, Facebook is at $85 billion based on the last private stock transaction I believe.
---