Is New York City still worth it?
(Read article summary)
The financial burden of living in New York City and other parts of the state is making young people rethink whether they want to stay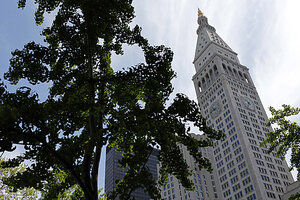 Mike Segar / Reuters
If you're not from here, you can't really understand why we put up with it.
I love New York City and the metro area I've called home for the better part of 34 years. It's the greatest, most sophisticated place on earth and sometimes the most frustrating and filthy.
I commute each day back and forth between the dystopian fourth-world slum of Penn Station and the towering, sun-drenched Beaux Arts masterpiece that is Grand Central Terminal (not "Grand Central Station", the trains end here - they don't go through). It is hard to understand how both of these opposing kingdoms can exist within 10 blocks and 4 avenues of each other.
We say that there's a twenty dollar walking-out-the-door-tax for NYC residents; no matter what you do, the minute you walk out of your apartment you've somehow spent 20 bucks.
My kids will grow up here, for better and for worse. They will be shuttled in and out of the city proper for museums, Broadway shows, class trips and family dinners. They will come back from college and strive for their first NYC apartments and I will freak out leaving them alone in that jungle the day I help them move in.
Also, I will probably die in New York. I've given this a lot of thought. I love traveling but New York does things to you, it makes it so you can't quite get along elsewhere. I no longer have any patience and can't function in a place where everyone around me and the people behind cashier's counters aren't in a rush. I'm not proud of this, but I'm also not in control of it.
But.
---