Biflation: inflation and deflation, at the same time
(Read article summary)
The term 'biflation' describes the simultaneous inflation and deflation of different goods or services. The term may be relatively new, but the concept is more than ten years old.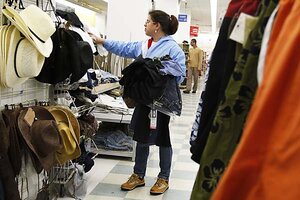 Shannon Stapleton / Reuters
Here a new one for us all to wring our hands over...
From BalanceJunkie:
The term biflation is relatively new, having been introduced by an analyst named F. Osborne Brown in 2003. Like most new concepts, there is still a lot of debate over its exact definition and parameters. Simply stated, biflation is an economic environment in which inflation of commodity-based assets occurs simultaneously with deflation in debt-based assets. I've heard a lot of people describe it as inflation in the things we need and deflation in the things we want, or inflation in services with deflation in durables. Indeed, the following chart shows that this phenomenon has actually been present for well over a decade.
(See chart here.)
Josh here, we've been talking about this already for some time but usually we've been calling it stagflation in a nod to the conditions of the 1970's. With high oil prices and unemployment, we can be forgiven for the comparison. F. Osborne Brown's biflation is a bit different though...
---