Tablet computers: Are they worth it?
(Read article summary)
Tablet computers – outside of the iPad – aren't selling well. The dearth of sales of tablet computers are hurting semiconductor companies.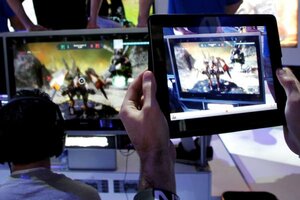 Danny Moloshok/Reuters
I'm going to get to Fred Hickey's comments in a moment, let me just start with a lament of my own...
I have an iPad 2. It is easily the most useless member of my Apple family. My MacBook Pro, iPhone 4 and iPod Nano all mean a lot more to me and get much more playing time. The problems with the iPad are seemingly endless:
1. Volume doesn't go loud enough into the headphones to watch an iTunes-downloaded movie on a plane or train without straining to hear the dialog.
2. Only Safari as the browser (I NEED Firefox).
3. Instapaper doesn't work with Safari essentially rendering the web browsing useless to me.
4. Opening (for example) New York Post stories from Google Reader doesn't send me to the Post's site (where articles are free), it sends me to the Post's app which wants $76 for a year subscription (LOL).
---