Apple stock: Would Apple TV send it higher?
(Read article summary)
Apple stock rose on Wednesday after the company reported strong earnings. But how much higher would Apple stock rise if it launched an Apple TV?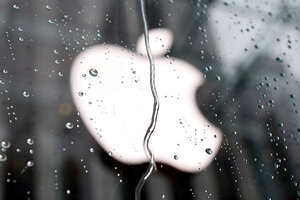 Mike Segar / Reuters / File
Sell-side analysts' reports are only interesting to me when one of them sticks their neck out and makes an outlandish call that forces me to think about a stock in a whole new way. This morning, UBS analyst Maynard Um did just that with Apple ($AAPL)...
From All Things Digital:
At $328 billion, Apple's market capitalization is the second largest among US companies. How much higher can it go? Plenty — particularly if the company launches that Internet-connected HDTV it's rumored to be developing.

UBS analyst Maynard Um says Apple stands to gain an incremental $50 to $100 billion in market capitalization if it pulls off a successful television set offering — one that inspires the same sort of consumer rabidity as the iPhone and iPad.
How great would it be if Apple nails this television vertical and proceeds to put every cable television company on the defensive. I'm pretty happy with Verizon's FiOS service at home, it does everything I want it to do. But the cost is ridiculous, I think the cable/phone/internet bill is higher than my utility bill some months.
---