Can investing in collectibles really work?
(Read article summary)
Don't run out and pour your life savings into baseball cards.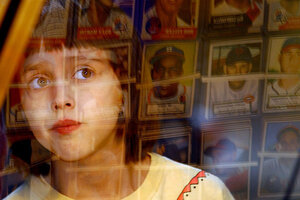 Matt Stamey / Topeka Capital-Journal / AP / File
Kevin writes in:
I have a small collection of vintage baseball cards from the 1930s that have a list value of about $30,000. I started collecting when I was a kid and my grandpa gave me some to start with, but over the years I've bought many more, almost completing a Goudey Heads Up set. I have had them all graded. What I'm wondering is whether I should continue holding on to these or not. I know you're not a baseball card dealer or trader, but I do know you know something about baseball cards and you'll give me your honest take on the situation.
I've received so many emails from people writing to me wondering why their giant pile of 1988 Topps cards are worthless, so this baseball card related email was actually a breath of fresh air. It also has given me a good reason to spell out my perspective on collectible investing.
First of all, I would never rely on the long term future value of a collectible. The problem with such items is that they rely entirely on supply and demand, and with collectibles, there's no real need for the item. Demand rests on the cultural interests of other people, which can shift over time. Fifty years ago, sports besides baseball were barely a blip on the national radar. Twenty five years ago, Garbage Pail Kids were in such hot demand you couldn't find them on store shelves. How things change.
Similarly, I would never invest in any collectible where there is a large supply. Any time there is a "collectible" out there in large supply, the only reason that "collectible" has any value at all is due to a huge demand in that moment, and the public is fickle. Instead, focus on seeking out the truly rare items and don't spend your time on the rest if you're "collecting" for profit.
---