Credit scores: Advice to a college student
(Read article summary)
Credit scores: If they're high enough, you can get a good credit card. Question No. 2 in this reader mailbag.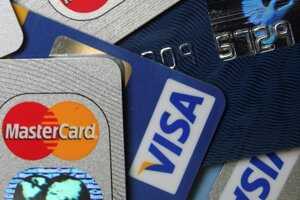 Jochen Krause/AP/File
What's inside? Here are the questions answered in today's reader mailbag, boiled down to five word summaries. Click on the number to jump straight down to the question.
1. Studying versus working
2. Student credit card question
3. Dealing with extra income
4. Preparing for job review
5. Pension or Roth?
6. Living frugal versus organics
7. Which debt first?
8. Retirement advice for dad
9. Charged-off debts
10. Dealing with rewards points
A few weeks ago, I was thinking about purchasing something expensive that I had been saving up for (the actual item is completely irrelevant). I was shopping online for it when I discovered that a person I've communicated with many times in the past was having some very deep personal troubles. His child is very, very ill and they have extremely poor health care, all of this coming during a period of career uncertainty.
Rather than buying the item, I decided to wait. Instead, I sent my friend a few dollars to help out.
In the end, what's more important: some material item I don't really need or the welfare of a friend when they're really in a bind?
---