Rethink your retirement plan
(Read article summary)
In December and January, The Simple Dollar is posting a daily series focusing on specific activities you can do right now to set the stage for a great 2011. Out with the old, in with the new.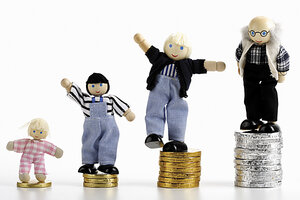 Creativ Studio Heinemann/Westend61/Newscom
8. Rethink your retirement plan.
If I've done one thing right with my personal finances since reaching adulthood, it's been taking care of my retirement. I've consistently put a significant amount away for that future day when I no longer work and I'm ahead of the retirement curve for my age in almost every way you could measure it.
Having said that, of course, I'm in the huge minority there. Many people my age have scarcely thought about retirement. I regularly get emails from readers in their forties and even in their fifties that are just now beginning to think about retirement savings.
That's a bad idea. Regardless of your age, the sooner you get started with retirement savings, the better. The more years you give yourself to save before retirement, the less you have to take out of each paycheck for retirement.
Getting a grip on your retirement plan really boils down to answering three questions.
Where are you at right now?
The first step is to understand what retirement savings you have built up right now and, to a lesser extent, what types of investments that money is held in.
Make a list of all of your financial accounts and their balances. This will, of course, require you to dig out all of those statements and log into your online accounts to retrieve this information (unless you're using something like Quicken).
The purpose here is simply to get a grasp of the totality of your retirement savings. You need to know what you have before you can plan intelligently for the future.
Where do you need to be?
Once you have this information in front of you, you can use a retirement planning tool like this one at MSN to get an estimate of what you will actually need at retirement.
---