Eat great for less: Bank some meals
(Read article summary)
In December and January, The Simple Dollar is posting a daily series focusing on specific activities you can do right now to set the stage for a great 2011. Out with the old, in with the new.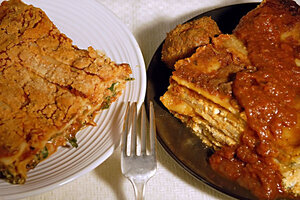 Joanne Ciccarello / The Christian Science Monitor / File
9. Bank some meals.
A lot of times, after a long day of working and child care, I really don't feel like I have the energy to cook a great meal from scratch. The temptation to just go out and eat is pretty strong, as is the temptation to make a quick and likely unhealthy and not all that delicious meal. Not only is neither of these choices all that healthy, they're both relatively expensive.
The best bang for your buck at meal time comes from preparing your own meals from scratch, of course. You have complete control over the ingredients, you can use items that are on sale at the store, and you're not paying someone else (or some food manufacturing company) to do the work for you with substandard ingredients.
It takes time, though, and that runs into conflict with the typical busy weeknight.
My solution – and one that's saved my family a ton of money over the years – is to simply bank some meals on weekends. Some people refer to this as "once a month" cooking, in which they make four duplications of eight dinners and eight lunches and stock the freezer with them. I typically don't do anything that organized, but we often make several meals on the weekend and freeze them with the intent of using them during the week.
Another financial advantage of this is that I can buy ingredients in bulk, reducing the cost per meal preparation.
The Game Plan
For my "banked" meals, I usually stick with stuff that has minimal requirements when I pull it out of the freezer. Ideally, it just has a sticker or a note on it that says how long to bake it in the oven and/or how long to microwave it.
Because of this requirement, meals like lasagna, casseroles, burritos, enchiladas, and so forth work quite well. You can make them once, wrap them, label them, store them in the freezer, and merely pull them out and put them practically straight into the oven. (Often, I'll pull out the meal the night before, let it thaw in the fridge, then cook it that evening.)
---
Follow Stories Like This
Get the Monitor stories you care about delivered to your inbox.