Income tax quandary: I make $320,000. Can I cut my taxes?
(Read article summary)
Income tax weighs on the mind of this high-earner. For a solution to a high income tax, see question No. 3 in the reader mailbag.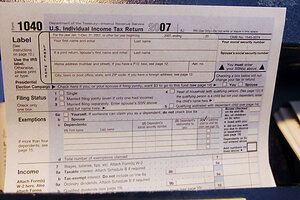 Paul Sakuma/AP/File
What's inside? Here are the questions answered in today's reader mailbag, boiled down to five word summaries.
1. Helping a rock bottom friend
2. Moving around the world
3. Easing an income tax burden
4. Financial wedding propriety
5. Small claims court question
6. Deeply worried about parents' future
7. Credit report issues
8. Goals regardless of money
9. Haircuts
10. First time home buyer tips
The end of January and the month of February are usually a time filled with longing for me. I'm looking so forward to the start of spring that I can almost smell the new plant growth, hear the twitter of the birds, feel the warm sunlight on my skin, and taste the asparagus and mushrooms that I harvest.
It's also during this period that I tend to get very productive and write a lot of posts in advance, so that I can take days off in the spring to hunt for mushrooms in the woods and plant the garden, as well as days off in the summer to enjoy time with my family.
Q1: Helping a rock bottom friend
My long time best friend, Jim, has been struggling with some repeating problems which he can't seem to break out from. Jim regularly gets himself into heavy credit card debt and is often bailed out by his parents. His parents have not been the greatest example in this regard as they too have debt problems and have already declared bankruptcy. Jim seems to spend money in order to distract himself from other problems, and often spends student loan money as soon as it is released from the University he attends.
The second problem is school related. His mind seems set on becoming a doctor although he is struggling to keep up in school. He has already had to retake several of the required classes and continues to struggle with procrastination. His Professors are always willing to give him extra leeway and extensions on assignments. He talks about how he dreams of graduate school, but I don't see the actions required of him to get there, and I worry about how he will be able to handle the next level when he is struggling to get past basic courses now.
---