Does Groupon beat frugality?
(Read article summary)
It doesn't matter how good a deal is, you're still spending money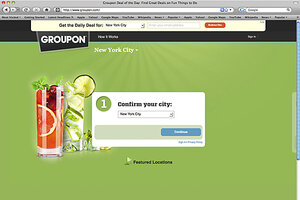 Groupon.com / AP / File
A few weeks ago, I put out a call on Twitter and on Facebook for detailed posts that people would like to see. I got enough great responses that I'm going to fill the entire month of July – one post per day – addressing these ideas.
On Facebook, Kimberly asked about "Online daily deals (groupon, living social, restaurant.com) vs. Being frugal and saving all your pennies. Sometimes its 50% off discount but sometimes you end up spending more."
I've only made offhand references to Groupon and such sites in the past, but this is as good a time as any to discuss such "daily deal" sites in detail. In fact, most of the remarks below apply to any form of coupon, but I'll focus on the "daily deal" phenomenon.
Coupons – In Your Face!
So, how do sites like Groupon and Living Social function? Each day (or so), an offer is delivered to your email inbox. Typically, this offer is in the form of a coupon for a local business or an online business.
Examples of offers include buying a gift card at a local business for 50% of the face value, buying a service (or a package of services) from a local business for a significantly reduced amount, or something similar.
In each case, in order to participate in the deal, you have to buy that item. The email will include a link that allows you to hop onto a website from which you can purchase the gift certificate or package.
So, let's say that one of my favorite local bookstores participates in Groupon. Groupon sends out a deal one day offering a coupon for a $50 gift card to that bookstore for only $25. I'm a frequent reader, so it sounds like a good deal, right?
Actually, it's not. Here's why.
---