Dress for success without breaking the bank
(Read article summary)
Keeping up with the dress code at your new workplace doesn't have to mean shelling out big bucks on a new wardrobe. Mix and match pieces and a little help from your co-workers is a good place to start.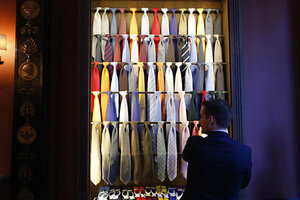 Andrew Winning/Reuters/File
I have approached people – and been approached by people – in situations very much like this one. Each time, it has become the source for a good relationship. Most of the time, people like to help others, and they particularly feel flattered if you're coming to them specifically for advice. That's a great first step for a good workplace relationship and/or friendship.
Another point of advice: buy modular clothing, especially at first. Buy clothes that can be easily mixed and matched to give the appearance of different outfits so that you're not having to buy as many articles of clothing at once.
I'll openly confess that I find this pretty easy to do for my own dressy clothing, but I am rather unfamiliar with the specific needs of professional clothing for women. My only experience in that department is through Sarah's clothing, and she seems to indicate that mixing and matching works reasonably well for her, too.
For myself, anyway, I have a suit and several pairs of dress pants, but I have several shirts and a number of ties. Most of the permutations of shirt, pants/suit, and tie work well together, so it can appear like I have a lot of dress clothes when I actually have very little. Since there are clearly some combinations that don't work well, I don't wear a combination unless both Sarah and I think it looks good.
The result of this is that I don't have to invest in lots of different clothes to make a variety of nice clothing work. I just have to maintain compatible clothes and replace the individual pieces as needed (which isn't too often – I rarely have to "dress up" for professional or personal purposes).
If you use that clothes-buying strategy along with the tactics and tips suggested by your new workplace acquaintances, you'll not only build a solid wardrobe at a very passable cost, but you'll also build a much stronger professional network.
The post Dressed for Success appeared first on The Simple Dollar.
---