When learning to save money, patience is a virtue
(Read article summary)
The real path to sustained financial success is about trying lots and lots of new things and, frankly, discarding most of them, Hamm writes.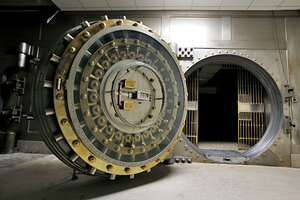 Mark Gormus/Richmond Times-Dispatch/AP/File
I remember that feeling all too well.
I'd scrimp and save for a whole month so that I could make an extra payment on a debt. I'd fire off a check for $1,000 more than the minimum payment and I'd feel good about it.
Then I'd look at the remaining balance… and I'd feel disheartened. All that effort, and there's still a long way to go.
The thing to remember about big life changes is that you don't measure the success by what happens in the first month or even the first few months. You measure success over a long period of time.
One month of better behavior just isn't enough. One extra payment just isn't enough.
The changes you make need to be repeatable. They need to be a new way of living for you, not just something you're doing right now to get this uncomfortable bill out of the way. If you don't address it in that way, that nasty bill is going to be right back in your face before long.
That's why the real path to success – for me, anyway – was all about trying lots and lots of new things and, frankly, discarding most of them.
For every five frugal tactics I've tried over the years, I've tossed four of them aside. Those tactics didn't fit into my life. They brought me genuine unhappiness or discomfort in some way. They left me feeling bad or cheap. They left me without things that I really wanted in my life.
When I faced the kinds of changes that I didn't like on the whole, I discarded them. I looked for new angles, new strategies, new tactics.
---