How to build a professional network
(Read article summary)
Good connections are important to building a career. But how does one build a network of professional connections? Hamm offers some advice.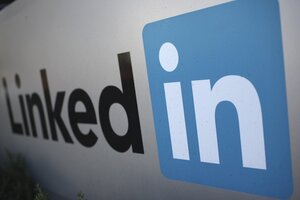 Robert Galbraith/Reuters/File
I am a huge believer in the value of professional networks. Over and over again during my career years, I saw the value of having positive professional relationships with people both in your organization and in other organizations.
Strong relationships can help you survive layoffs. They can help you have a leg up when it comes to promotions. They can make it very easy to bounce back from a job loss. They can even open you up to unexpected opportunities, like freelancing.
I consider a professional network to be a valuable tool for almost every person currently in the workforce. Computer programmers. Mechanics. Middle managers. Even entry-level service workers can find value here.
Here's the catch, though: it's really easy to talk about how great it is to have a professional network, but how does one get started?
I'm going to list the things I did when I got started in my previous career. When I left, I felt as though I had avery strong professional network that actually spread across multiple continents. I actually had multiple job offers to return to my field after I walked away (which I turned down, because my reason for walking away wasn't really related to dissatisfaction with my previous job).
It's worth noting that some of these things work best in a college setting, while others work best when you're already in the workplace. Pick and choose from this list based on your exact situation.
Let's get started.
Join organizations related to your career path. In college, these might be student organizations. Outside of college, there may be professional or trade organizations you can join. These organizations offer lots of opportunities to meet others who are in the same career path as you are, both peers and people who are in advanced positions.
---