When is a stadium not a stadium?
(Read article summary)
When it's a winter wonderland. Progressive Field, home of the Cleveland Indians, is planning to fill its empty stadium with snow and ice during the baseball off-season.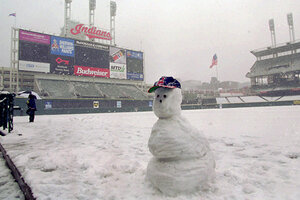 Mark Duncan / AP / File
The Cleveland Indians are getting ready to open a skating track and 10-lane snow tubing hill at Progressive Field during the offseason.

…Senior director of merchandising and licensing Kurt Schloss declined to specify financial goals. He says the aim is attracting fans downtown during the offseason.
That's from the Akron News. That raises the question of why the Indians would offer a service to attract "fans downtown". Color me skeptical, but I doubt it's much of a factor. Does Target sell products and to attract people to the mall? No. Target does what it does to generate profits. The fact that customers may have to come to the mall to get to Target is coincidence.
The stadium gets used 81 times a year for baseball games. That means there's 284 days a year that it stands empty and generates no cash flow. Why not make it into a winter sports park and generate some cash during the offseason? That's why we have concerts and football games at ballparks, even if some ballparks are a bit cozy for a gridiron.
It's certainly possible that getting people downtown is an actual goal since the stadium is owned by the city of Cleveland and is managed by the Gateway Economic Development Coporation, a public body. If so, they'd set a lower price to attract more people to the area than if all they cared about was customer traffic at the stadium.
---