Do you blame the housing market on the Fed or the 'glut'?
(Read article summary)
Krugman and Wells argue that Fannie, Freddie and the Fed are innocent; the big bad global glut fed the boom that led to the crash.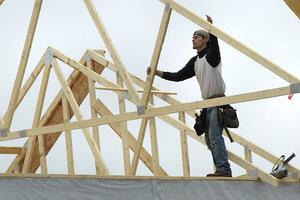 Charles Krupa / AP
In two substantial New York Review of Books articles, Paul Krugman and Robin Wells offer their views on various explanations of the property bubble and ways to get out of the slump. On the latter front, they advocate aggressive deficit spending by the federal government and quantitative easing by the Federal Reserve— No surprise to anyone who reads Professor Krugman's writings.
Regarding the causes of the bubble, they favor the "global savings glut" explanation. This view absolves the Federal Reserve from having spiked the punch bowl at the intertwined credit and real estate parties—by keeping interest rates exceptionally low from 2002 to 2005. It is remarkable that Krugman and Wells dismiss the case against the Fed without even bothering to mention the work that argues and presents evidence for the Fed's pivotal role in causing the crisis—namely, Stanford professor John Taylor's book and articles, including a Wall Street Journal piece.
Why does this matter? If the Fed fueled the twin bubbles, then its current actions may bring more of the same. Chairman Ben Bernanke is proceeding to inject money into the system via additional quantitative easing, possibly blowing new bubbles, whether in gold, junk bonds or some other asset.
---