Hayek and Keynes debating in Wonderland
(Read article summary)
Classic economists John Maynard Keynes and Friedrich August Hayek have a spirited policy debate, in the style of Lewis Carroll.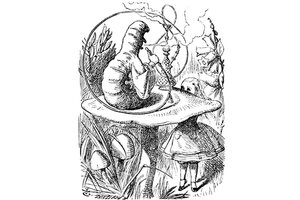 John Tenniel / Lewis Carroll's Alice's Adventures in Wonderland / 1865
Here's what Alice might have recited to the Caterpillar, had Charles Dodgson been a 20th century economist of sorts:
You are old, Maynard Keynes, and your theory's askew,
It's easy for one to see through it –
Yet everyone thinks that you've said something new.
Just how did you manage to do it?
In my youth, said the sage, I dabbled in stock,
For serious profits contesting,
And it wasn't too long but I saw what a crock
Was the classical take on investing.
But my colleague, you're making a dreadful mistake
By invoking such wild aggregation.
Why, these quantities hide what is really at stake –
Doesn't that give you some aggravation?
Why, dear Hayek, it's simple! Investors will quail,
And we're stuck with a dearth of employment.
With liquidity valued, consumption is frail
And needs government's clever deployment.
You are wrong, my dear Keynes, and annoying me so
With your markets that fail by assumption.
You forget the incentives for knowledge to flow –
Do you think all investors lack gumption?
At Cambridge, Keynes countered, I sought out the Good,
And nowhere in commerce did find it.
Economy never could work as it should
If there weren't public servants to mind it.
You're mistaken, my friend, and a little naïve
You're assuming that planners can't sin, right?
But even if sainthood you thought they'd achieve
Pray, how would they learn such good insight?
---