Federal stimulus offers speedy bucks, but how much bang?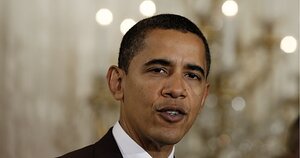 Charles Dharapak/AP
What does America most need from the stimulus package: the most speed from its federal buck -- or the most bang?
The two aren't necessarily incompatible. But in Washington, they often trip over each other because of conflicting priorities, as the stimulus plan's high-speed Internet effort points out.
The need for speed is obvious. Stimulus packages passed during most postwar recessions failed, simply because they didn't take hold until after the economy was already on the mend. The extra federal money stoked inflation instead of recovery. The idea of using a fiscal stimulus had fallen out of favor by the time George W. Bush, for entirely different reasons, pushed through a tax cut that happened to coincide perfectly with a sinking economy.
The timing was exquisite. President Bush's tax cuts are widely credited with keeping this decade's first recession from growing too big.
Obama is sprinting
Deep into the decade's second recession, President Obama is now hoping to do the same.
---