SEC needs old hands to catch the next Madoff
(Read article summary)
Whistleblower Harry Markopolos says federal regulators were too inexperienced to recognize the alleged Ponzi scheme.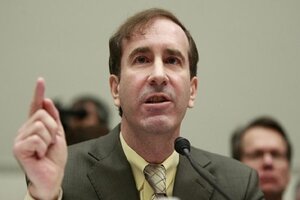 Jason Reed/Reuters
If the Securities and Exchange Commission is going to nab the Bernie Madoffs of the future, it needs to hire some people with gray hair.
That's what whistleblower Harry Markopolos believes, anyway. Mr. Markopolos – who for years tried to alert the SEC to problems in Mr. Madoff's financial operations – told Congress on Feb. 4 that too many government financial regulators are too young, and lawyers to boot.
What the SEC really needs, Markopolos said, are people who have been around long enough to understand the schemes money managers can dream up. That means people with math skills, instead of law degrees, and experience in financial markets. Years of experience.
"The SEC needs people with gray hair. Or no hair," Markopolos said.
House panel investigating
A securities industry executive and independent fraud investigator, Makopolos was the star witness at a hearing of a House Financial Services panel that was not-so-gently titled "Assessing the Madoff Ponzi Scheme and Regulatory Failures."
Madoff, a prominent Wall Street financier, was arrested this past December and charged with running a $50 billion pyramid fraud, in which early investors are paid off with cash from later ones, and trading profits are nonexistent.
---