The Madoff case is only the beginning
(Read article summary)
The financial crisis has spawned more litigation in one year than in the six years of the savings and loan scandal.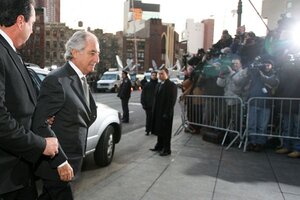 Mary Altaffer/AP
When Bernie Madoff was handcuffed and led away to jail Thursday, it represented perhaps some small sense of closure for the victims he bilked.
But the Madoff case is a mere prologue to a huge passel of securities-fraud litigation now coming down the pike.
The financial crisis last year alone produced more federal cases -- 576 -- than in the six years of the Resolution Trust Corp., which handled the savings and loan crisis two decades ago, according to Navigant Consulting, a Chicago-based consulting firm.
Caseload builds
And that was just for 2008. This year, litigants are filing two new financial-crisis cases for every case that's being resolved, Navigant said.
So what case will become the emblem -- the Enron -- of this economic crisis?
As big as it is -- and as heart-wrenching for those who lost their life savings -- Mr. Madoff's swindle sits apart from the financial-crisis litigation that will jam the courts for years to come.
His Ponzi scheme unraveled during the financial crisis but didn't cause it. He was apparently the single mastermind of his fraud as opposed to the dark web of thousands of mortgage brokers, investment advisers, regulators, ratings agencies, insurers, and so on who were responsible for the biggest Wall street debacle since the 1930s.
The search for villains
Most financial crises have their poster boys: the Keating Five politicians of the savings and loan debacle, Ken Lay of Enron fame, and so on. It's not yet clear who might -- or should -- vie with Madoff for that dubious limelight.
---