AIG is the new Enron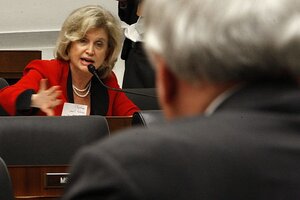 Pablo Martinez Monsivais/AP
Remember Kenneth Lay, Jeffrey Skilling, and Andrew Fastow? Those Enron executives became the poster faces for the hubris and dodgy accounting of the New Economy bubble, which popped nearly a decade ago.
Fast forward to 2009, replace Enron with AIG, and multiply by 10. The AIG debacle involves hubris and risk-taking so breathtaking that it helped burst the real estate bubble and nearly brought the world financial system to its knees.
Congress is already sharpening its knives.
"AIG will be remembered as one of the worst corporate disasters in American history," Rep. Carolyn Maloney (D) of New York said in hearings Wednesday.
"AIG now stands for Arrogance, Incompetence, and Greed," said Rep. Paul Hodes (D) of New Hampshire.
More questions
The story is just getting started. Congressional fury over AIG bonuses is leading to larger questions about who authorized those bonuses and who was hiding losses. What did government officials know when they were doling out bailout money?
---