Job searching? This week's unusual offerings.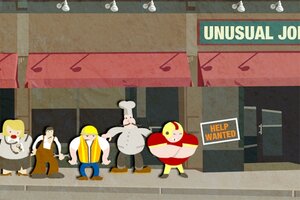 Jake Turcotte
Every week, Monitor staffers comb the job listings in search of interesting places to work. The most intriguing jobs we found this week are in Portland, Ore.; Canton, N.Y.; San Diego; Newnan, Ga.; Woodbridge, Va.; Arlington, Wash.; Santa Fe, N.M.; Malibu, Calif.; and Pikeville, Ky.
1. Yacht rigger
Employer: Schooner Creek Boat Works
Wages/salary: $14 to $22 an hour
Details: Perform rigging work on a wide variety of vessels as well as troubleshoot and repair mast wiring and electronics for a pleasure boat repair company. (For more information click here.)
Location: Portland, Ore. (pop. 541,550; median family income $59,748) is known as the City of Roses and this year's annual Festival of Roses kicked off Memorial Day weekend and runs for three weeks.
---