With Apple's new iPhone, is smartphone race down to two?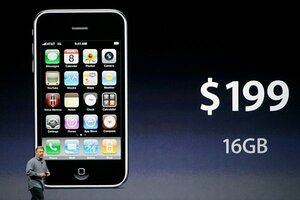 Jeff Chiu/AP
Recessions don't seem to slow innovation. Some surveys suggest they actually encourage it.
Which brings us to the growing battle for smartphone supremacy in an economy that hasn't looked so bad since the 1981-82 recessions, when Apple and IBM began to duke it out for the top spot in personal computers.
Smartphone and PC technologies are so different it's hard to draw comparisons. Even if they were similar, predicting winners is a fool's errand. Hardly anyone in 1981 would have pronounced Microsoft the winner of the PC wars. Nor could they have possibly known in 1996 that mighty Microsoft would be eclipsed by just-started Google.
Lessons from the '80s
But at least two lessons from the PC era do remain relevant for today's smartphone wars: the importance of timing and the need for speed.
Timing is all about hitting the market with the right product at the right time. The Apple II was a hit in 1977 but it took 2-1/2 years to sell 50,000 units. The IBM PC, launched in 1981, reached that same number in 7-1/2 months and quickly established itself as the standard business computer.
---