Fiat closes Chrysler deal – with no money down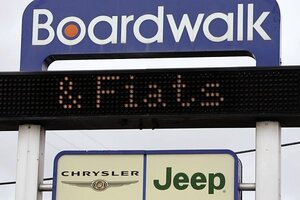 Paul Sakuma/AP
One of the most significant corporate deals of the year is happening for a remarkable transaction price: zero.
In a partnership signed Wednesday, Fiat is becoming a major owner of the new Chrysler Group that's emerging from bankruptcy.
What the Italian carmaker is paying, to get a 20 percent stake in Detroit's No. 3 automaker, is technology know-how. The alliance thus promises to help Chrysler build smaller and more fuel-efficient cars. Fiat will get the opportunity to nab a chunk of the US market.
What remains to be seen is whether Fiat can accelerate from "zero" to 60 miles per hour anytime soon – whether it can help Chrysler rev up sales, product designs, and sheer excitement. Right now, the car industry is in a deep global recession. Chrysler's sales are down 46 percent in the first five months of this year, compared with the same months last year. That's an even bigger hit than General Motors and Ford have taken.
---