Congress grills Bank of America's Lewis on Merrill merger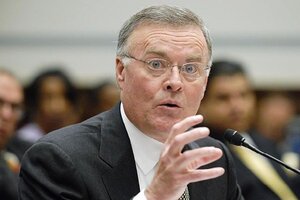 REUTERS/Jonathan Ernst
By putting Bank of America CEO Ken Lewis in the hot seat Thursday, congressional lawmakers achieved one thing: They removed any doubt that navigating the financial crisis has been a messy affair for both corporate chieftains and federal officials alike.
Too messy to be cleared up in a single hearing. It will probably require more public grillings – including of Federal Reserve Chairman Ben Bernanke – to resolve questions about the propriety of actions leading up to Bank of America's acquisition of the investment firm Merrill Lynch.
Those questions include:
•Did federal officials, in an effort to contain a financial panic, put undue pressure on Mr. Lewis to go forward with the deal?
•Should Lewis have disclosed to the bank's shareholders, before they voted on whether to support the merger, that losses were piling up faster than expected at Merrill?
•Should Lewis have tried to back out of the merger, or renegotiate the terms, by arguing that those losses at Merrill represented what lawyers call a "material adverse change" (MAC) for the deal?
Lawmakers probed those issues again and again Thursday.
At times, Lewis emphasized the pressure he felt from federal officials. But he also said he and his team decided, on their own, that acquiring Merrill was a good move for the bank and its shareholders.
He said he thought Mr. Bernanke and other federal officials were acting with good intentions.
And he sought cover on the question of whether he violated a duty by not disclosing more details on Merrill's performance ahead of the shareholder vote.
---