Jobless? Here are 10 intriguing offers.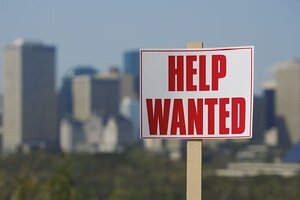 Newscom
Some 601,000 Americans filed claims for jobless benefits last week, the US Labor Department reported Thursday. That's the lowest level since January, but 55 percent higher than a year ago.
In our effort to help, Monitor staffers comb the job listings each week in search of interesting places to work. The most intriguing jobs we found this week are in New Orleans; Indianapolis; East Lansing, Mich.; Garfield, N.J.; Hartford, Conn.; SeaTac, Wash.; Nashville, Tenn.; New York City; Wallington, N.J.; and Mobile, Ala.
In times like these, after all, who wouldn't want to be a comic book coordinating editor – or work in one of America's five most polite cities?
Read on:
---