Fewer car dealers: Good for GM, bad for America?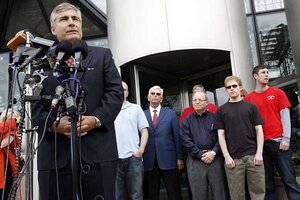 Shannon Stapleton/Reuters/File
When it comes to closing dealerships, what's good for General Motors and Chrysler may not be good for America.
That was the message from many lawmakers at a congressional hearing Friday on plans by the two bankrupt carmakers to downsize their retail network.
Representatives of GM and Chrysler said that cutting dealerships is an essential step as the automakers restructure in a bid for survival. But the move will affect communities across America, raising difficult questions about whether the nation will gain or lose in the process.
The car companies and many dealerships could gain – and that could have positive spillovers for the economy. But at the same time, the changes could push up the cost of cars for consumers, make car owners drive further for repairs, and cause significant job losses in towns nationwide.
So the outcome for the economy is complicated. At the core of Friday's hearing was a basic question: Are such deep dealership cuts really vital to the automakers' survival plans?
"The logic [of closing dealerships] is you want dealers to be profitable," says Jeremy Anwyl, CEO of auto information provider Edmunds.com. "That usually also is a code word for saying the customers might be paying more money."
More profits, more service?
---