Madoff's sentence: big, but not 141,078 years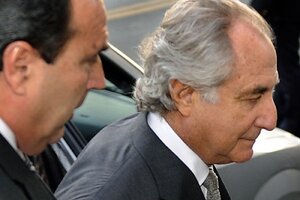 Timothy A. Clary/AFP/Newscom/File
There are frauds – and then there's Bernie Madoff's Ponzi scheme.
In sentencing the disgraced financier to 150 years in prison – the maximum requested – US District Judge Denny Chin made a strong statement about the risks of corporate fraud. "A message must be sent," the judge said in announcing the sentence Monday.
It's the third-longest sentence for white-collar crime, according to a compilation by Forbes magazine. Still, the sentence is six times longer than the 25 years that Bernard Ebbers received in 2005 for masterminding an $11 billion accounting fraud at WorldCom or the 24 years and four months that Jeffrey Skilling got for the felony charges in the financial collapse of Enron.
It's also far more than the 11 years that legendary gangster Al Capone got for tax evasion in 1931 or the 10-1/2 years in federal and state prisons that Charles Ponzi spent for the schemes that Mr. Madoff would copy with even greater effect.
---