A first career that's built to last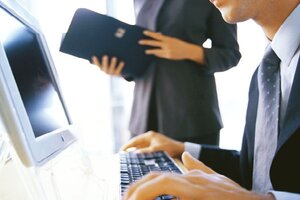 Newscom
When the job market overall is terrible, it helps to be graduating from a college that stays in tune with employers' needs.
Before finishing his final quarter this June, Jason Staten had his job lined up. And that's not uncommon among graduates of Neumont University in South Jordan, Utah, which specializes in bachelor's degrees in computer science and a project-based curriculum.
"The whole reason Neumont exists is to educate students so that when they graduate they are productive immediately on Day 1," says Aaron Reed, associate vice president of employer relations. "Historically [that has been] a problem ... especially in the computer science field, because any manager who's hired people right out of college will tell you that they require a lot of training and hand-holding."
Neumont students work in teams to learn the whole software development cycle. First, they do team projects for fictional clients (their professors). Then they move on to real assignments for companies such as eBay. The majority of graduates soon land jobs with starting salaries topping $60,000, according to the school's website.
---