Intel, Dell sending mixed signals on tech recovery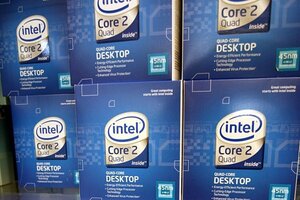 Paul Sakuma/AP/File
Technology stocks are sending strong signals about the future of the economy – but in opposite directions.
Want an up signal?
Chipmaker Intel Corp. on Tuesday announced stronger-than-expected sales of $8 billion and a net loss of $398 million for the second quarter. Excluding a fine from the European Commission, the world's largest semiconductor manufacturer earned 18 cents a share, more than double what a survey of analysts anticipated. It's considered a bellwether for other technology stocks.
Want a down signal?
On the same day, PC-maker Dell Inc. said lower revenues and higher prices for parts would squeeze its profit margins this quarter. Its shares dropped 8.1 percent Tuesday. Sun Microsystems Inc. also lowered its earnings guidance, ahead of its projected merger with Oracle Corp.
About the only clear trend is the change in the technology pecking order.
---