Job hunting? This week's most intriguing openings.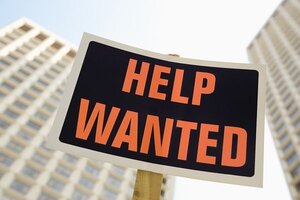 Newscom
Job seekers rejoice. Not only did fewer people file for unemployment benefits last week, intriguing jobs keep popping up.
Each week Monitor staffers comb the job listings in search of interesting places to work. The most intriguing jobs we found this week are in Atlanta; Boston; New York City; Cambridge, Mass.; Fredericksburg, Va.; Los Angeles; Westbrook, Maine; and San Diego, Calif.
Want to make a career out of Halloween? Read on.
1. E-mail manager
Employer: Teavana
Wages/salary: Not listed
Details: Develop new email strategies and techniques. Maximize click-through rates, deliverability, appearance, and sales. (For more information click here.)
Location: Atlanta (pop. 519,145; median family income $51,835) built in 2005 the world's largest aquarium, which has more than 8 million gallons of water.
---