'Twilight' helps Forks, Wash., beat the recession
(Read article summary)
A new Twilight movie, 'New Moon,' opens Nov. 20 and will focus more attention on Forks.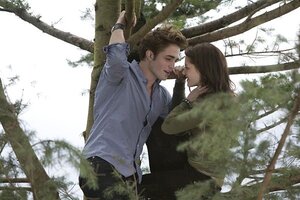 Imprint Entertainment/Maverick Films/Summit Entertainment/Deana Newcomb/Newscom
A Pacific Northwest town – Forks, Wash. – has found one way to beat the recession by cashing in on everything and anything "Twilight" related.
Fans of the popular romance-fantasy novels are flocking to the town of 3,275 residents and two stop lights to view the moss-laden forests and high school where charming vampire Edward Cullen and clumsy, teenage misfit Bella Swan meet and fall in love.
To cater to starry-eyed fans, Forks' Chamber of Commerce launched a van tour that points out spots featured in the Twilight books. The town even created a "reserved" parking spot at the local hospital for the fictional character Dr. Carlisle Cullen.
Now, a new motion picture based on the four-part saga by author Stephenie Meyer promises to focus further attention on the tiny community, which averages 12 feet (feet!) of rain a year. With "New Moon" due in theaters Nov. 20, the tourist trade is already building, according to Jane Margolies of The New York Times.
---
Follow Stories Like This
Get the Monitor stories you care about delivered to your inbox.