Money Daily Brief: Jobless claims rise; personal income also up
(Read article summary)
Jobless claims rose last week; personal income and expenditures increased during August.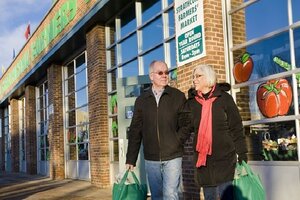 Newscom
Updated 9:45 EDT (13:45 UTC)
•American jobless claims up: After a three week decline, initial jobless claims increased by 17,000 last week to 551,000. Total insured unemployment dropped by 70,000 to 6,090,000 for the week ending Sept. 19, the last week for which information is available.
•US personal income, outlays rise: Personal income and expenditures increased by .2 percent ($19.3 billion) and 1.3 percent ($129.6 billion), respectively, in August. Disposable income also increased by .1 percent ($15.5 billion). Personal income has risen in four of the last five months, although only once more than .2 percent.
•Latest acquisitions: Shares of Tandberg ASA soared on news that Cisco Systems was digging $3 billion out of its deep pockets to buy the Norwegian video conference company. Separately, inside sources said US cable giant Comcast is negotiating to buy up about half of NBC Universal. In another step in its restructuring, Citigroup completed the $8.7 billion sale of its Japanese brokerage to Sumitomo Mitsui Banking Corp. The Japanese bank is the first to buy a major brokerage in Japan, signaling a realignment in Japan's financial sector.
---