Foreclosure surprise: 10 fastest-growing problem cities are newcomers
(Read article summary)
A look at the Top 10 fast-growing foreclosure cities.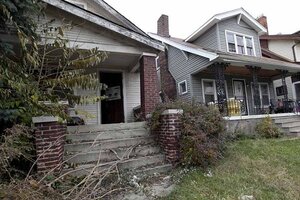 Rebecca Cook/Reuters
Just about everyone has become familiar with America's foreclosure capitals – metropolitan areas like Las Vegas with the nation's highest rate of foreclosed properties (1 in 20) or No. 2 Merced, Calif., (1 in 27).
But the problem is expanding to new cities. In fact, as the subprime-mortgage crisis eases for some of the top metro areas, like Merced and No. 3 Cape Coral-Fort Myers, Fla., economic pressures are creating new foreclosure capitals. One of them, Reno-Sparks, Nev., broke into the Top 10 foreclosure metros in the third quarter, according to a RealtyTrac report released Thursday. And others are gaining fast.
"These are places that were on no one's radar screen a year ago," says Rick Sharga, senior vice president at RealtyTrac, an online foreclosure marketplace based in Irvine, Calif. Now, stressed by rising unemployment and the resetting of exotic mortgages, their foreclosure numbers are skyrocketing.
---