Unemployed? This week's Top 8 job offers.
(Read article summary)
A look at this week's Top 8 intriguing job offers.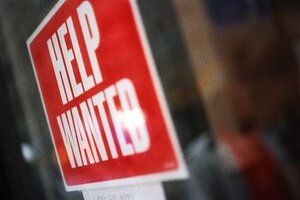 Newscom
If you've got an eye for baseball talent or missile design, this week's top job offers may be of service. If you're willing to work for $1.10 an hour, look no further than Twitter. This week's most intriguing jobs can be found in Northfield, Minn., and Lubbock, Texas, and plenty of places in-between.
1. Curator
Employer: Silent Wings Museum
Wages/salary: $30,680 per year
Details: Researches, organizes, and implements a variety of World War II Glider Pilot Aviation and wartime history related to programs. Assists Museum Manager with fundraising and grants management for World War II Glider Pilot, aviation, and other educational programs.
Location: Lubbock, Texas, (pop. 220,483, median family income $54,560) was the largest "dry" city in the country until 1972.
2. Baseball General Manager
Employer: Beckley Baseball
Wages/salary: $32,000 plus commission
Details: West Virginia Collegiate Wooden Bat Baseball team is seeking a full-time general manager to take over baseball operations at Linda K. Epling stadium. Need sports management degree and one year's relevant experience.
Location: Beckley, W. Va., (pop. 17,254, median family income $38,110) was home to the Beckley Knights, Miners, and Bengals, minor league baseball teams, from 1931-1938.
---
Follow Stories Like This
Get the Monitor stories you care about delivered to your inbox.