Home values rise in 30 cities: Is your city one of them?
(Read article summary)
New survey shows 30 cities saw home prices rise in the third quarter.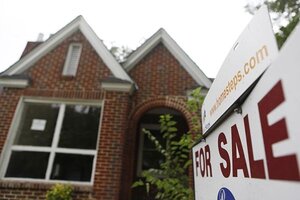 Jessica Rinaldi/Reuters/File
Finally! Some real glimmers of hope on the home-price front.
Thirty cities in the third quarter saw median home prices rise from the same period a year ago, according to a National Association of Realtors report released Tuesday. That still leaves 123 metro areas where home values are falling. Nationally, the median home price fell 11 percent to $177,900 from a year ago.
Nevertheless, the fact that 30 metro areas now have seen a rebound suggests that some regions of the United States are emerging from the real-estate bust. They are by and large smaller metro areas, mostly located in the nation's midsection and far from the big bubble states of real estate: Arizona, California, Florida, and Nevada. They're usually comfortable places with real estate prices below the national average, like Cumberland, Md., and Davenport, Iowa.
Here's the list of the 30 cities with the local median price of a home and its percentage rise in value from a year ago:
1. Cumberland, MD-WV  ($122,100) 19.2%
2. Davenport-Moline-Rock Island, IA-IL  ($115,600) 14.3%
3. Oklahoma City, OK ($144,100) 9.1%
4. Shreveport-Bossier City, LA  ($152,300) 8.6%
5. Cedar Rapids, IA ($145,700) 7.6%
6. Bismarck, ND ($157,200) 7.5%
7. Ft. Wayne, IN ($102,500) 6.9%
8. Buffalo-Niagara Falls, NY ($119,700) 4.8%
9. Jackson, MS  ($141,200) 4.6%
10. Durham, NC  ($184,300) 3.6%
11. Charleston, WV ($132,000) 3.4%
12. Springfield, IL ($114,400) 3.2%
13. Beaumont-Port Arthur, TX  ($133,600) 3.1%
14. Yakima, WA ($158,400) 2.7%
15. Manchester-Nashua, NH  ($237,600) 2.6%
16. Fargo, ND-MN  ($142,100) 2.4%
17. Florence, SC  ($121,300) 2.4%
18. Waterloo/Cedar Falls, IA ($118,200) 2.4%
19. Memphis, TN-MS-AR ($129,300) 2.2%
20. Indianapolis, IN ($120,200) 2.0%
21. Little Rock-N. Little Rock, AR ($132,500) 2.0%
22. Denver-Aurora, CO ($229,100) 1.8%
23. Pittsburgh, PA ($124,600) 1.5%
24. Des Moines, IA ($156,600) 0.8%
25. Kennewick-Richland-Pasco, WA  ($172,200) 0.7%
26. South Bend-Mishawaka, IN ($88,500) 0.6%
27. Dallas-Fort Worth-Arlington, TX  ($150,500) 0.2%
28. Houston-Baytown-Sugar Land, TX  ($160,600) 0.2%
29. Louisville, KY-IN ($135,600) 0.1%
30. Omaha, NE-IA ($137,600) 0.1%
______________
-- Catch us on Twitter.
---