Meet the Black Friday mavens
(Read article summary)
Whether its Black Friday deals online or in stores, meet the mavens who bring all the sales information together.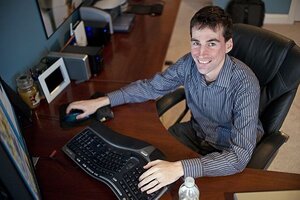 Sarah Beth Glicksteen/The Christian Science Monitor
It was a $50 Phillips CD burner that sparked a Black Friday revolution. Of course, Michael Brim didn't pay $50 for said CD burner. Stringing together a few online coupons, he got it for free.
"When I'm 14 years old, I thought, 'Wow, I can get something that retails for $50 for free and it doesn't take that much effort,' " Mr. Brim says.
A Black Friday maven was born.
Brim, now in his fifth year at California Polytechnic and State University in San Luis Obispo, Calif., runs BFads.net, a popular site dedicated to Black Friday sales of all sorts. He's one of several Web entrepreneurs who have capitalized on America's growing fascination with the deep discounts offered by retailers on the Friday after Thanksgiving.
While a CD burner got him into the game, it was a 4:30 a.m. run through Fry's Electronics near his childhood home that let Brim know he belonged in the world of Black Friday warriors.
Plunging through a crowd as a 100-pound, 5'4" middleschooler, Brim found himself in a scrum for packages of computer hardware at a doorbusting price. When he wriggled out of the press of adults carrying three items, he was hooked.
"You gotta remember, I was a young teenage boy and it was full contact shopping. There's just some sort of rush that I get when you go out and you beat people to stuff and you out maneuver them," Brim says.
---