Top 5 things to know about Scott Rothstein
(Read article summary)
South Florida megalawyer Scott Rothstein is indicted on charges that he used a $1.2 billion Ponzi scheme to peddle influence.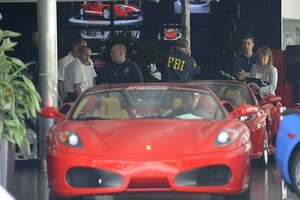 Josh Ritchie/MCT
South Florida lawyer Scott Rothstein was arrested Tuesday morning on five charges stemming from an alleged $1 billion Ponzi scheme. Here are five things to know about the flashy, high-powered attorney whose quick rise to prominence brought plenty of attention but also questions about the stability of his empire.
1. The Charges
On Tuesday, federal officials charged Mr. Rothstein with mail fraud, wire fraud, money-laundering, and two other counts related to a $1.2 billion Ponzi scheme.
They allege that he and unnamed co-conspirators convinced investors to make high-interest loans to fictitious clients of his law firm and also induced them to buy at a discount purported confidential settlement agreements in civil cases with the promise that they would be paid back in full over time. In addition to paying back old investors with new money, Rothstein used the funds to buy preferential police treatment for his businesses and law firm, purchase restaurants to serve as hubs for influence peddling, and as bonus money for his attorneys who agreed to make political donations, according to the federal complaint.
Rothstein pleaded not guilty to the charges on Tuesday.
2. A fast-rising empire-builder
Rothstein's law firm, Rothstein Rosenfeldt Adler P.A., was eight lawyers strong at its 2002 founding. Within six years, it had exploded to 58, including a former mayor of Boca Raton, Fla.
---