Mortgage rates hit record low. Should you refinance?
(Read article summary)
Mortgage rates reach record lows. Should you refinance?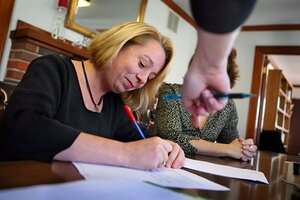 Melanie Stetson Freeman/Staff/File
The last time mortgage rates were this low, homes cost less than $25,000, people used single dollar bills to pay for a tankful of gas, and no one worried about OPEC or stagflation. Microprocessors hadn't been invented yet.
So now may be a great time for many homeowners to turn back the clock to the 1960s and refinance their mortgages. Rates on 30-year fixed mortgages dipped to an average 4.71 percent last week, according to a Freddie Mac survey released Thursday. That was the lowest level in the 38 years the mortgage-backing agency has tracked them.
Whether you're one of those homeowners who should refinance depends on a few factors, especially how much you owe on your home and how long you plan on living there. If you're considering the move, ask yourself these questions:
1. Do I qualify? If you've got substantial equity in your home and your credit is excellent, then there's usually no problem. But if you bought at the height of the housing bubble — 2005 to 2007 — the value of your home may have declined so much that you no longer have 20 percent equity in the property, which is usually the minimum to get the best interest rates. If you're not sure, get your house appraised ahead of time, suggests Steve Thode, director of the Goodman Center for Real Estate Studies at Lehigh University in Bethlehem, Pa. Sure, you'll pay a little extra (the lender will probably demand another appraisal), but it can keep worse things from happening. "If the property does not appraise [at a high enough level] you could be rejected on your loan, which isn't a nice thing on your credit record," says Mr. Thode.
---