Zhu Zhu Pets unsafe? Hardly, says manufacturer, as consumer group backtracks.
(Read article summary)
While a consumer group's report suggested that Zhu Zhu Pets were unsafe, new details put that proposition in doubt.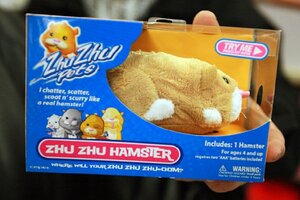 Mark Hoffman/Milwaukee Journal Sentinel/PSG/File
When consumer-protection group GoodGuide raised questions about whether red-hot holiday gift Zhu Zhu Pets were unsafe, parents thronged the Internet to find out if the robotic hamsters were going to be recalled for what the consumer group called "dangerous" levels of tin and antimony.
However, GoodGuide has now posted a statement on its blog allowing that its testing methodology does not measure metals in the same way that American and European guidelines dictate.
The statement in part reads "while GoodGuide considers the presence of any antimony on the surface of a toy to be a concern, we want to clarify that we used a testing methodology to evaluate the toys that is different from the testing methodology incorporated into the federal standards."
Translation: The toys may not have violated national safety standards after all. The difference lies in how one counts trace amounts of metals.
Since there are no federal regulations for tin in toys, it's difficult to know what to make of GoodGuide's charge about that metal. On antimony, a substance used as a catalyst in polyester production and also sometimes as a flame retardant, US federal regulations limit the "soluble" amount of antimony in toys to 60 parts per million. The soluble standard involves the amount of antimony the product gives off when, for example, children put a toy in their mouths.
Cepia posted the safety review testing done by an international standards group on its website Monday, showing levels of soluble antimony in Zhu Zhu Pets under 2 parts per million.
---