UK bonus tax proposal: Three reasons it won't happen in US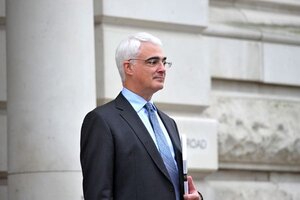 Newscom
The pre-budget report from Alistair Darling, Britain's chancellor of the exchequer, held one explosive proposal: a one-time "super tax" on banker's bonuses.
The tax would impose this year a 50 percent penalty on all bonuses over £25,000 ($41,000), a fee levied on the banks instead of individual bankers. Americans can be forgiven for wondering if such a tax would work in the United States. Given the anger towards US bankers because of the forced bailouts and huge bonuses, the proposal has a certain populist appeal. But a bonus tax on this side of the Atlantic faces three big hurdles:
1. Super-tax sharply different from US proposals
In the US, "pay czar" Kenneth Feinberg laid down a number of proposals for limiting banking pay — but only at banks that received government bailout funds. In addition, the Federal Reserve is reviewing the executive compensation policies of the nation's top 28 "large, complex banking organizations." To get out from under the pay restrictions, some banks (including Bank of America and JPMorgan Chase, for example) have repaid the federal government. The upshot? Goldman Sachs, for example, is on pace to offer an average bonus of $717,000 per employee, the largest in the firm's 140-year history.
---