Massachusetts Senate race: What will the outcome cost you?
(Read article summary)
The Senate race in Massachusetts could cost you $2,100 or save you $5,000 in insurance premiums, depending on who you are and whether healthcare reform passes.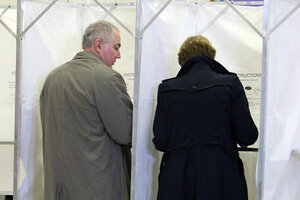 Bizuayehu Tesfaye/AP
Every once in a while, an election comes along that hits you in the pocketbook. Direct impact. Cost or benefit.
You can almost hear the "ka-ching" with each tick of the ballot counter.
The US Senate race in Massachusetts between Democrat Martha Coakley and Republican Scott Brown is one of those elections. A win by Ms. Coakley would probably allow national healthcare reform to pass. A win by Mr. Brown would probably kill it (although congressional Democrats are looking for ways to keep it alive).
Healthcare reform will directly affect how much Americans spend on health insurance in years to come. So how much will this race cost you?
Up to $2,100 a year. Or it might save a family about $5,000 a year, depending on who you are.
If you're among the majority of Americans insured through your company, then it doesn't much matter who wins the Senate seat in Massachusetts. The Congressional Budget Office (CBO), which has examined the effect of premiums under the Senate healthcare plan (.pdf), estimates that in 2016 a family plan would cost your company $20,100 a year if healthcare reform goes through and $20,300 a year if it doesn't.
---