Outraged over CEO pay and bonuses? Here are the real culprits.
(Read article summary)
A new book, "Money for Nothing," blames corporate boards for CEO pay, bonuses, and other excesses.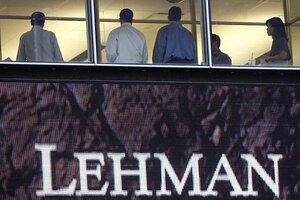 Chip East/Reuters/File
The big pay raises for CEOs generate all the outrage (and deservedly so). But if you want to do more than rant, save a little anger for the people who approved them.
The boards of directors at America's corporations are at the heart of the problems on Wall Street, according to a new book, "Money for Nothing."
Not the board members themselves – generally upstanding people. But the board system itself, which encourages too much deference to CEOs (even though they report to the boards) and not enough real oversight of their actions, according to the authors of "Money for Nothing."
Unfortunately, the laxity of board oversight takes money out of the pocket of everyone who owns a share of US stock. Even if you aren't a shareholder, this stuff matters. The right reforms at the board level could prevent the next meltdown.
After all, who approved those zany pay packages that encouraged excessive risk-taking at places like Lehman Brothers, AIG, and Merrill Lynch? In one recent year, boards of directors awarded an average 10 percent of net profits to their companies' top five executives, according to the book.
It doesn't stop at pay. In one egregious example, a board used $12.1 million of shareholder money to buy the CEO's antique map collection to display at headquarters! (For more details, play the "Pay that CEO" game at the "Money for Nothing" website.)
Where were their boards of directors when companies like Bear Stearns and General Motors were going under?
---