NCAA basketball tournament 2010: Gotta watch, gotta work
(Read article summary)
In this economy, you can't let the NCAA basketball tournament sap your productivity. Here are five tips to watch and work.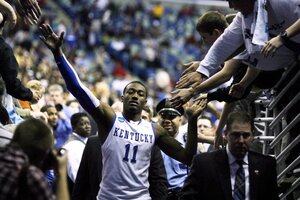 Sean Gardner/Reuters
It's understandable: Employees get distracted from work during the NCAA men's basketball tournament. And that distraction carries a hefty price tag – $1.8 billion in lost work time, by one estimate.
That might be fine in good times. A whopping 92 percent of fans who watched games online during the 2008 March Madness tournament did so from work computers, according to Nielsen web-ratings data.
But this isn't 2008. Harried bosses aren't likely to look kindly on long lunch hours around a TV screen or idle chat about whose alma mater fell into what bracket. So you're going to have to get creative about getting your work done.
"Keep in mind that it is nearly impossible to gauge the impact of March Madness on productivity in an information-based economy where workers possess portable technology that allows them to work from anywhere and any time," says John Challenger, CEO of Challenger, Gray & Christmas, Inc., a global outplacement consultancy that tries to predict the tournament's impact on workplace productivity each year. Still, he estimates US employers will lose $1.8 billion in worker time because the average employee wastes around 20 minutes a day on Madness-related diversions (sounds conservative to us).
To do our part to maintain productivity during this fragile time for workers, we polled our Facebook fans and perused Twitter to compile five tips for how employees can follow games and still stay on their bosses' good side (it's a tough job market after all).
5. Check the scores.
We know it's tempting to watch games live on the Internet at work, but trust us, your spouse and college-bound children will thank you if you just say no to streaming.
---